Versatile Solution for Your York Home
York homeowners can transform their property with our outstanding range of aluminium bifold doors. The intelligent design of our doors means that you can maximize the space within your property and enjoy a seamless connection between your home and garden. The benefit of our bifolding doors is that they fold away in a concertina fashion, combined with slimline designs, this means that you can enjoy much more space.
We want our customers to celebrate their style and for this to be reflected in the home improvements that they make. This is why we offer York homeowners the chance to customise their new profiles. With a range of stunning colours and foil finishes, our doors can be manufactured to suit your style. These doors can be installed seamlessly into any style of York home, whether you own a modern, heritage, or period property, our doors will complement your home.
Our bifold doors will provide industry-leading performance values for homeowners in York. With an installation you will benefit from outstanding thermal efficiency, home security, and excellent weather protection. By choosing Kingfisher Windows as the installer of your bifold doors, you are guaranteed quality products and leading customer service.
---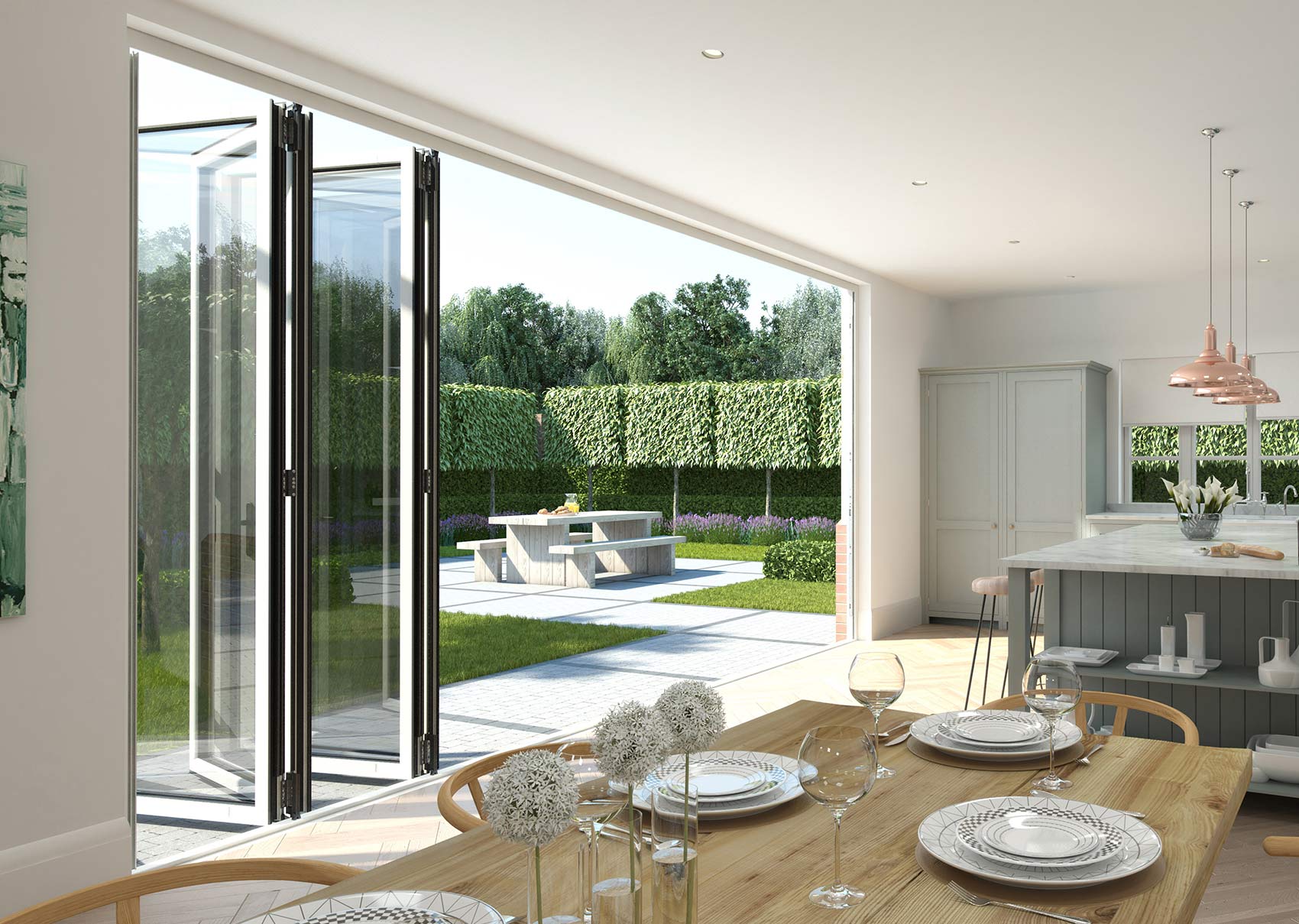 ---
Kingfisher's Market-Leading Profile
At Kingfisher, we focus on providing our customers with the highest-quality bifold doors. This is why we are so proud to offer the Senior Architectural profile. With unrivaled performance values, these doors will transform the way that your property functions. All of our double glazing profiles can be fully customise during the manufacturing process to ensure that you can enjoy the doors of your dreams. The combination of large glazing areas and ultra-slim sightlines creates a door that will truly connect your York home and garden.
Intelligently designed and mounted on a high-performance roller, these doors will provide years of seamless operation for the whole family. Our profiles can be installed to open inwards or outwards, depending on what is the most suitable configuration for your property. We enjoy offering our York customers the choice of a full range of colours and finishes for their new doors.
Our aluminium bifold doors are designed with thermal efficiency at the forefront. In the past, bifold doors were notorious for poor levels of heat retention. However, with our industry-leading profiles you will experience unparalleled levels of thermal performance. Your home will remain at a comfortable temperature year-round due to the multi-chambered design of our bifolds. This will mean that you can rely less on your central heating and begin saving money on your energy bills.
---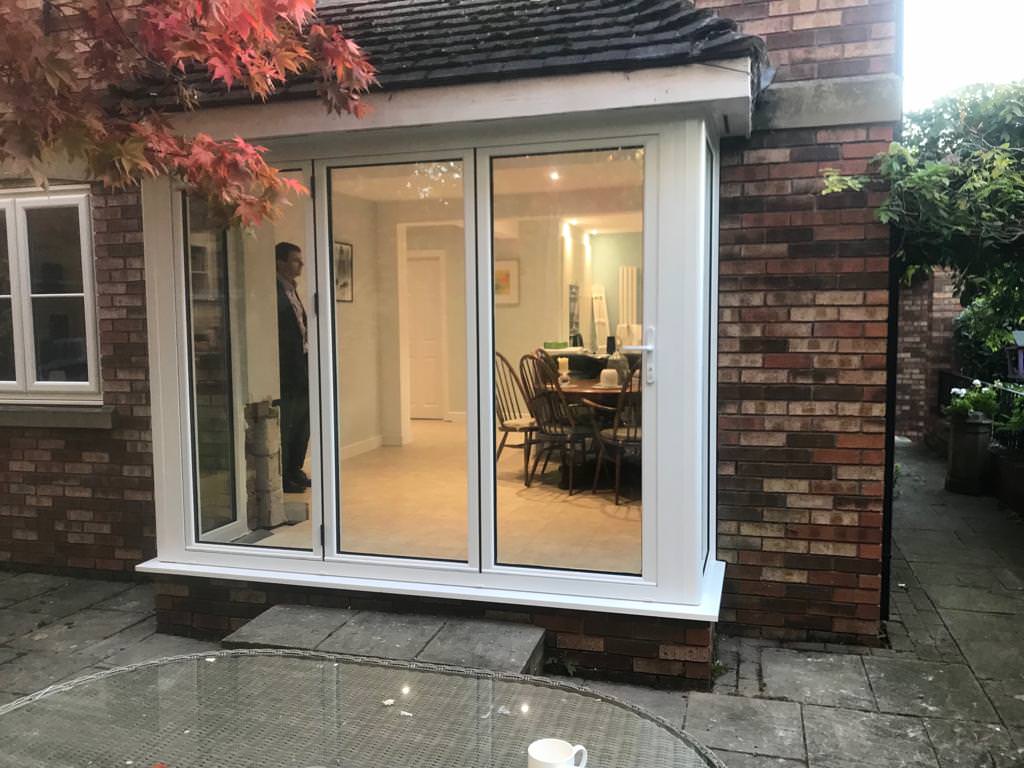 ---
Features & Benefits of Modern Bifold Doors
Impressive Home Security
There are a number of ways in which these fantastic feats of engineering have been crafted to keep you safe. Our aluminium bi-fold doors are tested to PAS24:2012 security standards and a number of other accreditations such as BS6375 Part 1 Weather resistance, BS6375 Part 2 Operation & Strength and BS6375 Part 3 Annex A. Exact. It's things like this that make our bi-fold doors some of the strongest products on the market.
Outstanding Thermal Efficiency
At Kingfisher, we understand the importance of your home's performance values. With our bifold doors you will enjoy a combination of vacuum-sealed double glazing and PUR thermal breaks. These features are designed to specifically trap pockets of warm air within your York home behind a dedicated thermal barrier. Gone are the days of draughts, cold spots, and water ingress, with our doors your home will remain comfortable at all times. Homeowners will be able to rely less on their central heating after an installation, this means saving money and reducing the carbon footprint of your home.
Suited to You
Our bifold doors are manufactured bespoke to suit our customer's specifications and personal taste. This means that you can enjoy doors perfectly tailored to fit your home. Our doors are available with a range of glazing styles and can be easily finished in a variety of colours and foils. The benefit of using aluminium is that it won't warp, crack or fade, even after prolonged exposure to the elements.
---
---
Work with an Accredited Installer
We've been working with homeowners for over 25 years, helping York customers to install bi-fold doors that reflect both their personal sense of style while also matching the existing aesthetic flair of their property. Our talented installation teams can easily blend your new double glazing into your home, and if you choose us for your home improvements then before you know it you'll be basking in the summer sun thanks to your new bi-fold doors.
Prices for Bifold Doors in York
If you've decided that one of our aluminium bifold doors sounds like the perfect choice for your property, then get in touch with Kingfisher Windows today. Our eclectic range of double glazing products includes a number of other door types if you're interested, so call us up today on 01132 854 985 to see how we can help you to achieve the home of your dreams.
At the same time, you can also fill out our online contact form if you would prefer to speak to us in writing. Our teams always respond quickly to queries of this nature. We also recommend that you use our online quoting engine if you're after a quick price. This handy tool generates personalised, no-obligation quotes at no extra cost. Head over and try it out now!