Elegant French Doors for Your Halifax Home
French doors offer you a stylish way to give your home better lighting and a grand entrance. These doors are quite wide, giving you a fantastic view of the outside, while the large glazed area also lets in extra sunlight. What's more, they open to let in unrestricted fresh air as well!
Furthermore, you can install these versatile products inside your home. They serve to divide up spaces or simply add a touch of European style to a room. You don't even have to worry about them matching your property, since we give you complete freedom to style your Profile 22 French doors the way you want them.
---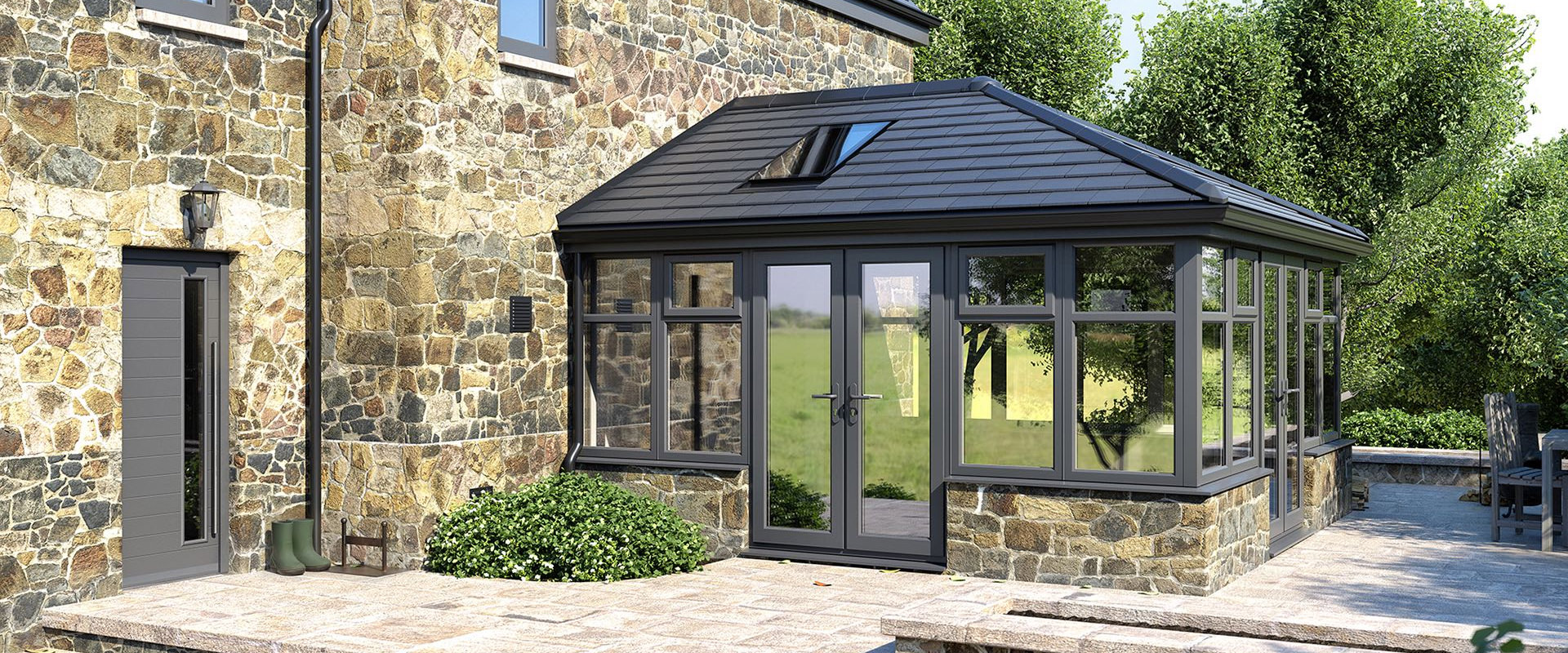 ---
Features & Benefits of French Doors
Versatile, Accessible Products
Since French doors are inherently wider than regular doors, they make an excellent mobility-friendly access point. These wide double doors don't have a static central pillar. Instead, they use a 'flying mullion' which is attached to the slave frame. As a result, you get the use of the full aperture, which can be combined with a low threshold for easy access.
Complete Weather Protection
Our French doors can effectively keep out rain, wind, and even noise. By keeping draughts and water out, they help keep your home warm and dry. Moreover, you are also protected from mould and mildew, as well as rotting fittings.
Thermally Efficient Double Glazing
Keeping out the cold is not all our French doors can do. They also help you to stay warm by retaining heat naturally behind dedicated thermal barriers. This innovative insulation reduces heat loss, and as a result you use less gas and electricity which leads to a marked decrease in your heating bills.

Premium Frameworks: The Profile 22
At Kingfisher, we always strive to bring you high quality products. Therefore, we have chosen to work with the fantastic Profile 22 framework. These French doors offer more than just elegance and class. They also give you exceptional performance in a number of ways through innovative technology.
These doors are designed for better thermal performance, improved weather protection, and maximum security. In fact, with Kingfisher Windows you can get your French doors certified by Secured by Design and BBA. As a result, you know your home is protected, and your doors are of the highest quality.
---

---
Improved Protection
Our beautiful French doors are designed with security in mind and are specifically intended to protect your home from all threats. This is why we offer doors accredited by Secured by Design. As a result, you can be sure that you're getting the highest safety features available.
Moreover, our installations exceed the most stringent of industry standards. By consistently matching UK regulations, we keep your home safe from intruders as well as the elements. Your home stays warm and dry, and your family and possessions are always safe.
Sustainable Designs
With our French doors, you're choosing a product that will have minimal impact on the environment. We use materials that can be fully recycled, so they don't end up in landfills. Moreover, they help you reduce your energy consumption, thereby lowering your carbon footprint as well.
Perfect Installation
At Kingfisher, we offer you our experience and expertise in the fitting of bespoke double glazing. As a result, you can rest assured that your project will be completed in a timely and efficient manner. We give you durable doors installed perfectly, so you can enjoy them for years.
Extensive Colour Choice
Our French doors are available in a range of colours, from the standard contemporary styles to more personalised options which includes a variety of beautiful wood-grain finishes. As a result, you can get the perfect look for your home no matter the existing aesthetic.
Material Selection
You can tailor the performance of your product to include more than just colour however. We offer light and elegant aluminium as well as well-insulated uPVC as frame materials for your doors, both of which make for a great choice.
---
---
Post-Sale Service for French Doors
At Kingfisher, our customers are very important and we ensure the best possible service we can provide every time. Our products aren't just chosen for their looks. They are selected for the features and performance. However, we understand that you may want additional reassurance.
This is why we offer excellent aftercare service, even though you probably won't need it! All our products come with a 10-year guarantee from the manufacturer, and as a result we will take care of any performance-related issues you may have.
French Doors Prices, Halifax
Our French door prices are extremely competitive. In fact, you get such stunning performance at incredibly low rates that any purchase with Kingfisher feels like a bargain!
If you would like to learn more about our range of French doors, or any of our other products, then just contact us. We'd be happy to answer any questions you may have.
On the other hand, if you're looking for a quick quote then use our online calculation system. This is a clever little tool that gives you your customised price estimate in a few minutes!