Timber Doors: The Classic Look, The Latest Features
One of the oldest materials in the construction industry, real timber is a fantastic material that offers a combination of durability and aesthetics that is unmatched. Modern manufacturing techniques have only helped in the production of this quality material, and the next generation of wooden doors offer all the benefits of the classic design along with the latest longevity-enhancing properties.
Reinforced for added security and heavily insulated, these doors do more than act as an entrance to your home. These modern marvels become one of the most high-tech points in your household, crafted from the unique Masterdor profile which leads the market in terms of quality. Work with Kingfisher today and reap the benefits of modern timber doors.
---

---
Quality and Strength with the Mastedor Profile
When choosing the material for your front door, it's understandable that you'll want the best possible product first time. The front door is the primary access point into your property, and therefore we only make use of the best materials and the finest profiles when it comes to crafting timber doors. The Mastedor framework is an incredible feat of modern engineering.
Available in 44mm and 54mm, these timber doors come in over 25 distinct styles. This means that you can blend your new purchase in with almost any property type. Whether you're opting for a timber door so that it can blend in with your traditional home or wish to emblazon your modern property with a classic temperament, you'll be spoilt for choice.
Featuring an aluminium sub-frame standing at 3mm thick for enhanced structural strength, these timber doors are some of the strongest around.  Features like this have earned them Secured by Design status, and that's not all. They also meet ISO14001:2004 requirements for environmental compliance, making for a sustainable and eco-friendly purchase.
---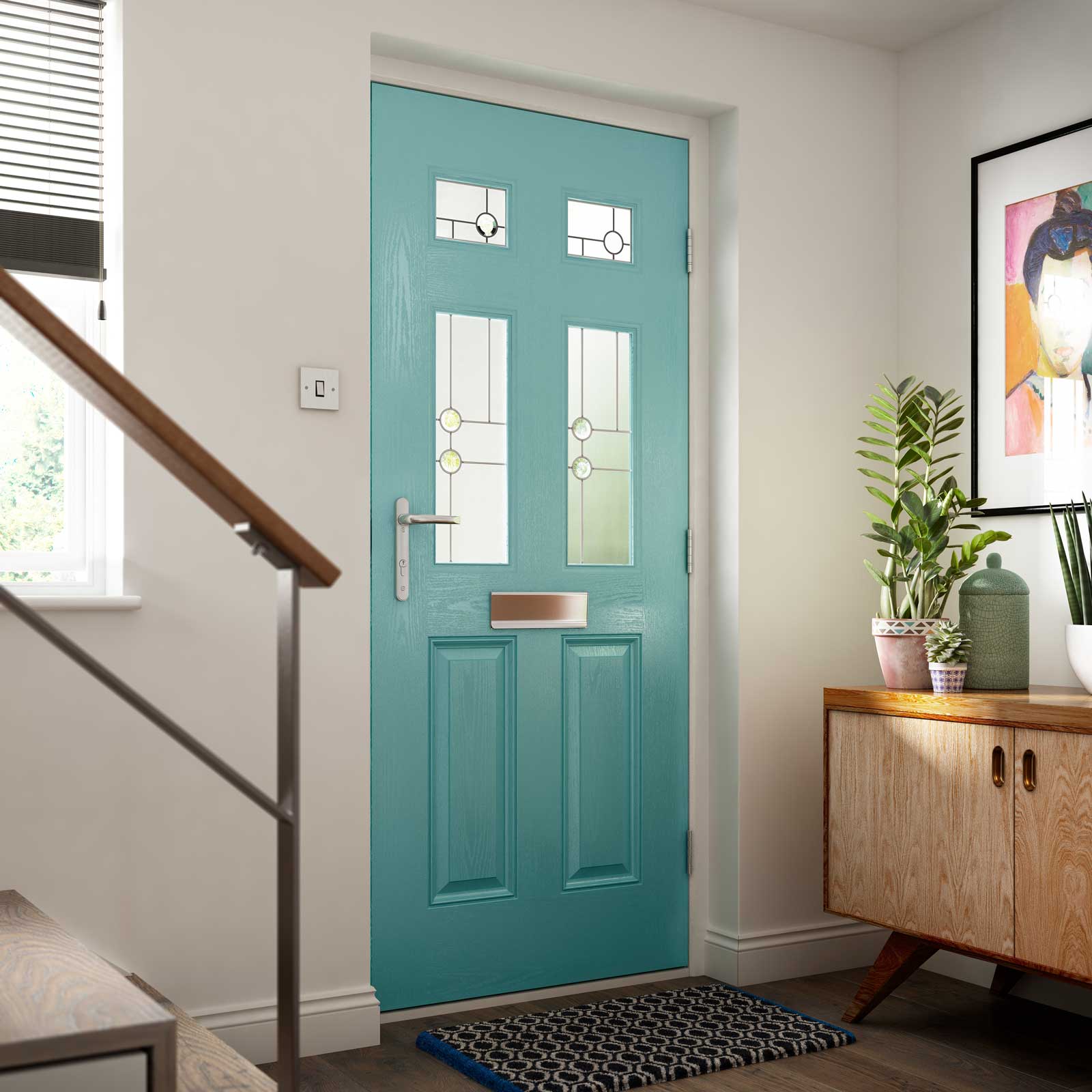 ---
Features and Benefits of Timber Doors
Incredible Security Capabilities
The fact alone that these timber doors are Secured by Design and PAS24 secured is evidence enough that they are some of the safest products around. Tested by crime prevention and proven to make access by unwanted parties near-impossible, Mastedor timber doors are the go-to choice for the security conscious homeowner. The thick profile of these products is also incredibly powerful, boasting an impressive level of impact-resistance.
Extraordinary Thermal Efficiency
It isn't just windows and walls that serve to keep your home safe. Our timber doors work in tandem with your home's insulation to keep it warm throughout the year. U-values as low as 1.0 W/m2K can be yours with these amazing doors, and this is combined with an impressive 800 special air-tightness that prevents the onset of draughts in your home. The result is a warmer property, which in turn will lead to reduced energy bills.
Enjoy Personalised Products
Just because you're focused on energy efficiency and style doesn't mean that your new timber doors have to suffer aesthetically. We also offer a number of customisation options that let you tailor your timber doors to your exact requirements. We offer a white interior as standard with 21 external colours on offer which range from Anthracite to Whitby Jet. We also offer a wealth of traditional and contemporary Mastedor designs. Get in touch to find out more!
---
---
High-Quality Profiles, Market-Leading Installers
For over 25 years, Kingfisher Windows have been helping customers throughout Barnsley and the surrounding areas to locate the perfect timber doors. We are a FENSA registered member and dedicated to providing a swift and efficient installation to each and every one of our Barnsley customers.
Our devotion to quality products and services is one of the many reasons that we are able to work with such fine profiles. With Kingfisher Windows you get the very best timber doors, meaning that a Kerto Q core, Sapele mahogany lipping and Tricoya facings can all be yours. This is backed by our extensive aftercare service; with Kingfisher, you're a customer for life.
Timber Doors Prices, Barnsley
If you want to treat your home to one of our incredible timber doors, then get in touch with Kingfisher Windows today. Our specialists are always on hand to help and would be more than happy to answer any questions you might have about our many products and services. Call us up today on 01132 854 985 or fill out our online contact form.
If you've already made your decision and are just wondering where to get a quick and personal price, then you'll want to head on over to our online quotation engine. This handy little tool has been created for our website and generates bespoke quotations with just a few details about your home improvements. Try it out today and get your price.