With Spring comes the motivation for change and new beginnings – so why not celebrate the season and the start of warmer weather by treating your home? We've come up with a choice of five home improvements that are perfect for this time of year.
1. Conservatories
A new conservatory could give your home the extra space it really needs. Benefit from a space that can be as spacious and airy as it is cosy – ideal for the transition from Spring days into dusk.
A modern conservatory can be perfectly matched to the character of your home and your personal taste, thanks to the wide choice of materials available today. Whether uPVC or aluminium, you can enjoy good looks, thermal efficiency and a comfortable living space for your family.
2. Orangeries
For a more modern twist on the conservatory, why not opt for a stylish orangery this Spring? Boasting a lantern roof and impressive vaulted ceiling, an orangery is only partially glazed.
Solid pillars and less glazing help to give the feel of a more permanent extension and one that is seamlessly connected to your existing home. This Spring, you could be enjoying a family breakfast in a light, airy and spacious living space, and then using it to unwind and relax when it gets dark – do home improvements get much more flexible than that?
3. Bi-folding doors
If you want to create a centrepiece for your home, bi-folding doors could be just what you are looking for. Unlike other door types, bi-fold doors don't encroach on internal living room or patio space when opening or closing.
Bi-fold doors can be opened for access and ventilation, or to create a partition. Even when closed, bi-folding doors let in the light and keep your home warm – making them the ideal home improvement for changing seasons.
4. Double glazing
It may sound boring, but double glazing can seriously enhance your home. Say goodbye to condensation, draughts and noise, and enjoy uninterrupted views and efficient insulation – it's never been easier to bring the Spring time inside, whilst keeping the colder temperatures out.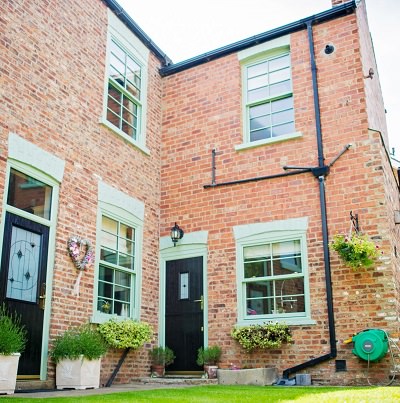 5. Coloured windows
For a true touch of personality and new life this Spring, coloured windows are the answer. Reflect the colours of nature in your windows with greens, creams, woodgrains and other naturally inspired finishes.
Our coloured windows stay looking as good as new for years to come. They won't flake, peel or discolour either, and are a small change that makes a big difference.
Celebrate Spring with Kingfisher Windows
By offering the home improvements mentioned above, plus many more, Kingfisher can help you to make the most of your home this Spring.
With teams of dedicated designers and installers, we will work with you to enhance your home and your daily life, wherever you live across North , West Yorkshire and Wakefield.